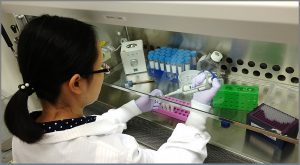 The PDX-PCT Core Facility provides all of the necessary resources to carry out the PDX Development Project, in vivo studies and services. The Core utilizes ABSL2 pathogen-free, state-of-the-art animal housing facility (LARC), mouse colonies, advanced tumor monitoring (Biopticon TumorImager) and imaging systems (IVIS Lumina III), very well equipped surgical suite specifically designed to conduct various surgical procedures and spacious necropsy room designated to conduct necropsy procedures, tissue preservation and banking.
Services:
Development of patient-derived xenografts (PDXs) – we establish xenograft models directly from patient tumor samples obtained during surgery/biopsy. Successfully engrafted tumors are propagated by serial transplantation and cryopreserved for future use.
Patient-derived xenograft (PDX) tissue repository – we maintain a large repository of PDX tumor models distributed to researchers upon availability.
Xenografts – we establish xenograft models from cell lines or tumor samples provided by the investigator or supplied through our repository. Methodologies for cell/tissue implantation include subcutaneous, intraperitoneal, intravenous, and orthotopic tumor grafting.
Drug efficacy studies – we evaluate in vivo efficacy of agents either alone or in combination with standard chemotherapy regimens against murine tumors, human tumor xenografts, and transgenic mouse models of human cancer. Tumor size is monitored by caliper measurements or TumorImager system allowing 3-D subcutaneous tumor scanning and/or in vivo imaging (for disseminated and orthotopic models).
Compound formulation/delivery – we formulate therapeutic compounds for in vivo delivery using a variety of commonly used vehicles. Compounds are administered by a number of routes, including oral gavage, intravenous, intraperitoneal, subcutaneous, intratumor, and by food or drinking water. Additionally, slow-release hormone pellets are implanted subcutaneously to support growth of hormone dependent tumors.
Preclinical toxicology studies – we determine the maximum tolerated dose (MTD) after single dose or chronic exposure required for tolerance profiling of candidate agents.
Tumor monitoring and Imaging – we monitor tumor growth and response to therapy using advanced tumor monitoring (Biopticon TumorImager, TumorManager systems) and imaging technology (IVIS Lumina III imaging system, Living Image, 4.0 Software).
Tissue collection – we harvest/collect various tissues (tumor, organs, urine, blood, plasma and/or serum) and preserve these for future analysis.
Data management – we provide computerized comprehensive management of all experimental data and digital photography of experimental in vivo tumor models and samples.
Consultation – we provide assistance with experiment design, data analysis, and IACUC Protocols preparation.